Fitting Robots into the Plastics Industry with New Twists and Turns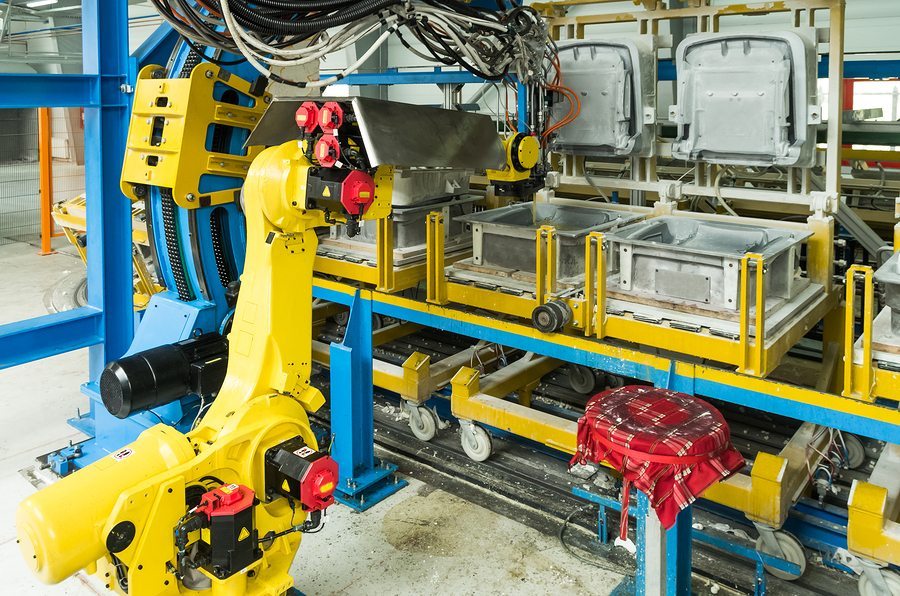 Plastics companies have used robots successfully for years, but there are new findings on productivity and engineered innovations that are making robots even more powerful strategic partners in the work at hand.
Linear robots have been the go-to equipment but six-axis robots are proving their worth. The labor-saving devices are now popular in China and in the U.S. where companies are re-shoring and working competitively on a global scale.
Take a closer look at robots in the plastics industry.
Robots Boost Productivity and Reduce Expenses
Automation offers several advantages to users. Greater productivity, flexibility and cost savings on materials are among the benefits.
Customers have achieved a 15 percent to 30 percent productivity increase after they installed robotic automation. The figure came from manufacturer ABB in an article Robots, the Plastic Molder's Best Friend.
ABB's Global Segment Manager—Plastics, Helen Ke Feng, noted in the write-up that automation leads to savings in raw materials. "This is especially beneficial with some of these carbon fiber composite materials, where the material cost is extremely high. If you can save raw material costs, it benefits you on the overall production costs as well."
Robots can Multi-Task
Linear robots have done the heavy lifting in the plastics industry while injection molders have waved off six-axis robots as expensive and complicated to operate.
Technology has advanced and is being produced based on the needs of users. This has led to a rise in collaborative robots and has led to ease-of-programming a robot.
As noted in Robots, the Plastic Molder's Best Friend, plastics processors see competitive advantages in increasing the use of robotics. Factories in China are using
six-axis robots to reduce labor costs and take the place of skilled operators. In the U.S. and Europe as well, the technology has made it possible to re-shore and save costs on what was once considered cheap labor.
Six-axis robots play a larger role when you have a complicated, or complex, molded part.
"If it's a complicated part, you can't directly eject it from the mold. Because of the mold or space limitations, you need the six-axis robot to help you rotate the part and maneuver it out of the mold," said Feng.
She noted that a robot can do two jobs. One would be taking the part off the mold, and while it's waiting for the mold to be reopened, the robot can perform additional work. Productivity increases and that is why six-axis robots are getting more popular in plastics processing.
Robots have Moves that Increase Safety
Servo robots can add efficiency to plastic molding for the automotive industry while keeping workers safe from hazardous conditions. This is another example of how robots have both primary and secondary benefits to users.
A company that provides engineered components to the commercial vehicle industry, Consolidated Metco, with headquarters in Vancouver, Washington, used servo robots to overcome a particular production challenge. The write-up Yushin Servo Robot Improves Worker Safety describes how the company automated part removal from an injection molding press.
A large 4-axis robot was chosen "not only for its ability to handle the specific application at hand, but also for its flexibility to handle a broad range of future part removal and positioning requirements over the life of the injection-molding machine."
The robots satisfied all positioning requirements and replaced a worker that had to maneuver between moving parts.
Robots Achieve Equal Output and People Power
A contract manufacturer who gets a run of a million units has to make each part precisely the same. Noble Plastics of Grand Coteau, Louisiana uses automation to provide consistency and high quality in all production runs.
The company is featured in the video Why I Automate – Noble Plastics. Missy Rogers, president of Noble Plastics, says another benefit of automation is the empowered employee.
Workers who learn new skills don't just leave and go to other companies. She has seen a different result. "They tend to stay and bring in like-minded people," she says in the video.
Innovation is a given in industrial automation as manufacturers make adjustments based on market demands. Stay on top of automated trends and discover the benefits with the latest blog posts, the video series "Why I Automate" and other resources available on A3.