FedEx Begins Using Robots for Delivery Across New York City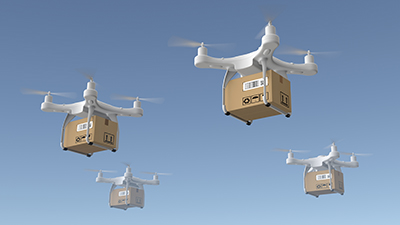 In November 2019, the first FedEx delivery robot made its appearance in New York City, and it wasn't alone. Several FedEx delivery robots, which FedEx has named Roxo, were part of a promotion where the robots propelled themselves around lower Manhattan.
FedEx Tests Roxo the Delivery Robot
FedEx intends to use these Roxo delivery robots for its SameDay delivery service. Roxo was only temporarily visiting New York for a promotion as the delivery robots are still undergoing testing in other markets.
To make a delivery, Roxo first uses machine learning algorithms to map its route. It then uses artificial intelligence, motion sensors, and stair-climbing wheels to travel along sidewalks and roads and to avoid obstacles. Roxo is linked to a remote tower that can provide additional guidance and computing power when it needs assistance.
Roxo is capable of driving through all types of terrain, including streets, sidewalks, sand, and puddles. Steep slopes and steps are no challenge for Roxo. The delivery robot can bring items right to a recipient's front door. It reacts to unexpected obstacles and can even stop at traffic lights.
FedEx Says Safety Is Roxo's First Priority
FedEx claims that Roxo can deliver all kinds of cargo. The robot can be configured for single or multiple deliveries. Only a package's recipient can gain access to the delivery robot's cargo area. This ensures that no one can tamper with deliveries. Roxo can even deliver items that need to be delivered hot or cold, such as groceries.
Roxo also includes a number of safety features that keep it from bumping into humans. FedEx hopes to work closely with lawmakers to make sure their delivery robot meets all regulatory requirements in cities like New York with tight traffic areas.
FedEx hopes to use Roxo to offer SameDay delivery solutions for customers who order from popular retail stores like Target, Walgreens, and Walmart. The company believes that its delivery robots can help supplement their operational and service efficiency for both customers and team members. FedEx also expects Roxo to help create new job opportunities. The growth of the service robot industry is easy to see thanks to the increasing visibility of service robots like Roxo.
See other ways The Market for Service Robots is Expanding Rapidly by exploring Robotics Online.
Service Robots
This content is part of the Service Robots curated collection. To learn more about Service Robots,
click here
.