Discover the Many Uses of Collaborative Robots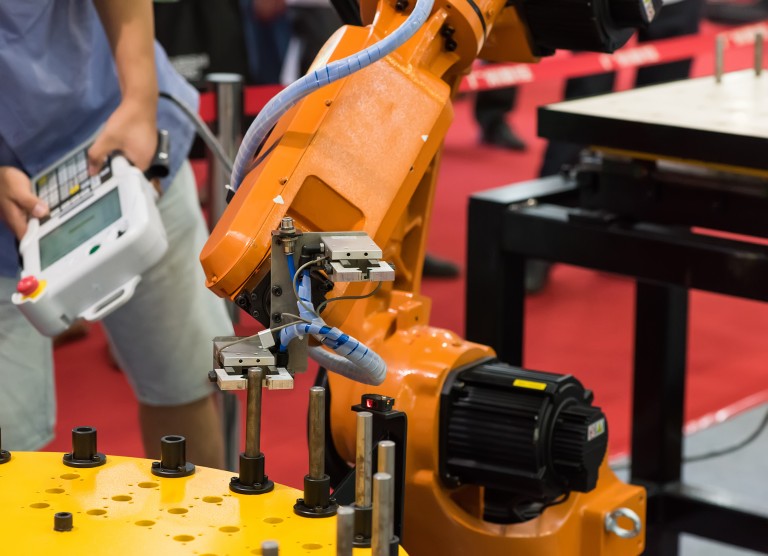 Are you interested in learning more about how collaborative robots could impact your business? Get answers to your questions and make new discoveries at the upcoming RIA International Collaborative Robots Workshop, taking place May 3-4 at the Hynes Convention Center in Boston, Massachusetts.
Industry leaders will show the wide-ranging uses for collaborative robots. The Robotic Industries Association (RIA), a member organization of A3 is bringing together global experts, leading suppliers, and people like you who want to learn more about the hottest topic in robotics. This is a value-packed event that will show how collaborative robots can boost productivity and, ultimately, profitability.
Opening and Closing Speakers
Hear about the uses of collaborative robots and "real problems with real solutions." That's what Dr. Henrik Christensen of Georgia Institute of Technology's College of Computing will offer in his opening address.
Dr. Christensen is the KUKA Chair of Robotics at Georgia Tech and is known for research that leads to real-world application. He is sought out for his knowledge worldwide, and was recently quoted in the article from RIA, Intelligent Robots: A Feast for the Senses, on the benefits of sensor-based robotics to engineer solutions for picking particular objects.
People working alongside collaborative robots develop a partnership with these tools, rather than just learning how to use a new piece of equipment. Dr. Rodney Brooks is the conference's closing speaker who will address human-robot interactions from his perspective as the founder of Rethink Robots. Under the leadership of Dr. Brooks, Rethink Robots has turned out Baxter and Sawyer; two robots that have a friendly appearance along with a range of flexible capabilities.
Dr. Brooks has achieved many professional milestones in his career and will address current uses of collaborative robots and what he envisions for the future. He regularly speaks to the benefits of robotics and artificial intelligence.
An Agenda to Experience
Plenty of value exists at the conference whether you're a small product manufacturer new to using robotics or a large enterprise that's been integrating collaborative robots with your workforce. Between Dr. Christensen's and Dr. Brooks' addresses, the discussion will focus on users of collaborative robots.GM, Procter & Gamble, and GE, will participate in a panel discussing, highlighting the challenges of getting started and the benefits of using collaborative robots in daily operations.
At the conference, check out these other hot topics:
Getting Started with Collaborative Robots
Safety Implications of Collaborative Robots
Collaborative Robot Technology and Customer Applications
New this year are presentations from mobile robot companies including Clearpath Robotics and Aethon. Clearpath makes self-driving vehicles for materials transportation along with other uses for autonomous mobile robots. Aethon makes autonomous mobile robots and tracking solutions.
Collaborative robot suppliers will address attendees as well. Learn from Rethink Robotics, KUKA, Universal Robots, Nachi, FANUC, ABB, and Precise Automation.
The conference is being held in conjunction with The Vision Show 2016, May 3 – 5, also at the Hynes Convention Center. You'll be able to find many of the companies speaking at the conference also exhibiting in a special "Collaborative Applications" section on the show floor.
How to Register
Visit the International Collaborative Robots Workshop website for full information on registration fees, the venue and accommodations and the agenda.
RIA is collaborating with the Massachusetts Technology Leadership Council and MassRobotics, which serves as the innovation hub for robotics in the Northeast. Members of RIA and MassTLC receive a $100 dollar discount.
After the conference, stay up-to-date in an "ecosystem of technology" with free videos, trainings, and links to valuable articles available on A3.