Collaborative Robots Boost Automation with the First Multi-Tool Mount System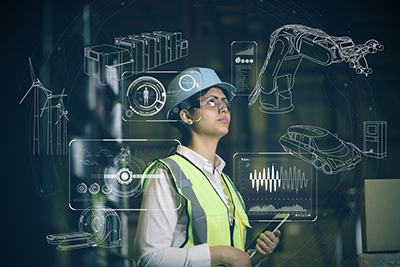 The first multi-tool mounting system for the smallest collaborative robots has arrived from New Scale Robotics. The NSR-MTM-3-URe Multi-Tool Mount (NSR-MTM) System lets its users mount and control up to three robot grippers or other tools on a Universal Robots e-Series collaborative robot. The NSR-MTM system offers a complete productivity solution as its tools can be changed when needed.
Benefits of the NSR-MTM System
With the NSR-MTM system, a user can quickly set up and perform multiple processes with one robot. The system features higher throughput in small part handling and inspection tasks and requires fewer large moves, resulting in reduced cycle times without compromising safety. The system also can automate more processes with fewer robots.
The new NSR-MTM system includes both the hardware and software required. Its low mass and compact size make it compatible with UR's smallest UR3e collaborative robot. The hardware mounts to the UR robot tool flange with just four screens and one connector to the internal tool port.
The MTM uses power and RS485 signals from the robot's internal cables and slip rings. It requires no external cabling and brings all eight signals from the UR robot tool to each device. The three tools are mounted on the MTM faces by means of the standard ISO 9409-1-50-4-M6 interface and the M8 round connector.
The NSR Devices Software, a new URCaps plugin for UR e-Series robots, allows for fast setup and easy programming of up to three devices in a single user interface on the UR teach pendant. One-handed positioning can be used to teach and set positions. Users can build tool processes with just a few clicks and easily run complex automation programs. There is no need to manually insert multiple program nodes. Dynamic adjustment of the tool center of gravity is possible depending on the mass of the object picked.
Applications for the NSR-MTM System
The NSR-MTM-URe Multi-Tool Mount System will be used in a variety of applications. Small part picking, movement, measurement, data logging, sorting, and assembly are just some areas for the use of this system.
The NSR-MTM system will allow increased productivity from multiple robot grippers and other tools while still being able to fit in the tightest of spaces. The NRS-MTM-3-URe Multi-Tool Mount system is now available from Universal Robots distributors.