Collaborative Robot Safety Standards Take Center Stage at IRSC October 15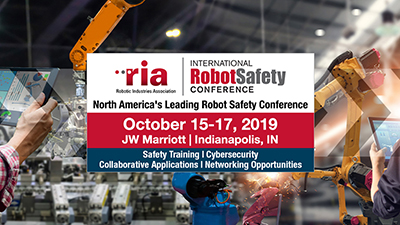 The International Robot Safety Conference (IRSC) is North America's leading robot safety conference where attendees can learn every aspect of safety related to robots, including collaborative robot safety. This year, the conference will be held at the JW Marriott Indianapolis on October 15-17, 2019. The conference is hosted by the Association for Advancing Automation and the Robotic Industries Association.
Robot sales are at an all-time high and robot safety is critically important to automation planning. The goal of the IRSC is to provide tools and knowledge that keep people safe when working with collaborative robots.
Why Attend the International Robot Safety Conference?
The IRSC offers attendees the most current safety insights and connections needed to develop winning safety strategies to keep a competitive edge. Those who attend will benefit from learning what's new in robot safety. They'll connect with safety professionals and leaders in automation, and they'll expand their knowledge and understanding of the latest trends in robot safety.
The conference is informative for everyone, including first-time users of robots to longtime veterans. The discussion of new safety standards will include the new collaborative robots technical report. Attendees will learn how collaborative robots are implemented and the safety standards that surround their use.
Conference sessions and workshops will focus on current robot safety standards, including ISO 10218-1, 2:2011 industrial safety standards. Other standards that apply to robots and industrial automation will be discussed, including ANSI and ISO standards.
Attendees also will discuss why cybersecurity is a real concern for robotic safety. Breaches can cause shutdowns and ransomware attacks. Guests will find out how to protect their systems from these types of attacks. Business leaders, department managers, and directors will learn how to properly train safety officers to protect workers from injury.
Who Should Attend the International Robot Safety Conference?
The 2019 RIA IRSC encourages the following to attend:
Engineers
Robot system integrators
Technicians
Industrial safety professionals
Educators
Environmental, Health & Safety professionals
And other manufacturing automation professionals.
Aerospace
Assembly
Automotive
Electronics
Packaging
Semiconductor
What Else Can Attendees Expect at the IRSC?
Exhibitors will have the opportunity to showcase new technologies and get feedback from visitors. Attending the IRSC is a great networking and collaboration opportunity for both collaborative robot vendors and customers. All who attend will be able to see where robot safety technology is headed.
Hosted by the Association for Advancing Automation and the Robotic Industries Association (RIA), register for the International Robot Safety Conference, which takes place October 15-17, 2019, to learn about robot and cobot safety.