Automation and the Workforce: What's the Real Challenge?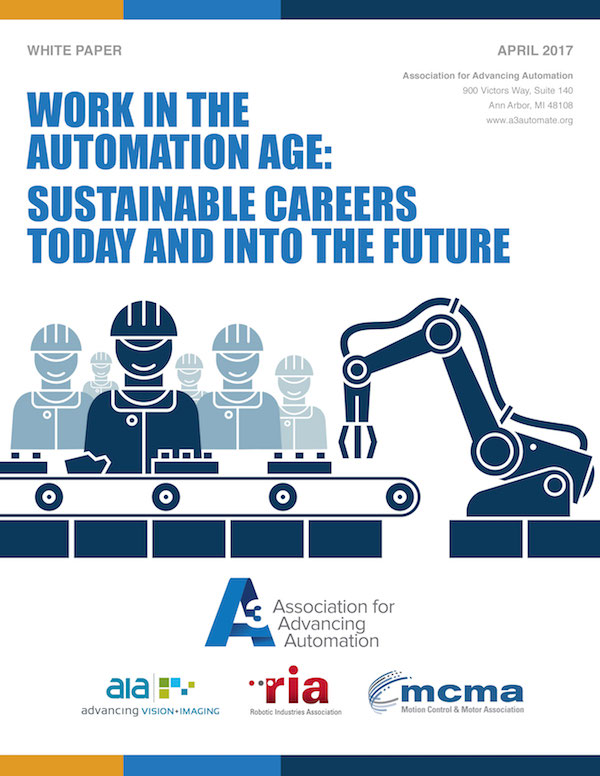 Today's headlines about robots and jobs are enough to give anyone whiplash. From the NY Times to Forbes magazine, we're told that robots are taking all the jobs and then, in the same breath, that robots will be the biggest job creators in history. For manufacturing executives who are looking to automation to improve productivity, drive profits, and grow their businesses, it can be hard to know what to believe—and how to prepare.
If we look to the past, it's clear that each age in the Industrial Revolution has brought with it a wave of new opportunities and benefits. From steam to electricity to computers—and now to automation—society is transformed by technological advances that increase productivity and prosperity and broaden the availability of innovative goods and services. What we're seeing today, as in the past, is the corresponding transformation of jobs. Automation helps improve workers' health and safety and allows them to apply their innate creativity and problem-solving abilities. But it also requires new skills to work with and optimize business processes using current automation technologies.
The Association for Advancing Automation (A3) recently embarked on an in-depth study of automation and its impact on the workforce. What we found reinforces our mission. As automation changes jobs, new, stable, well-paying jobs are opening faster than employers can fill them. What follows are some of the key points discussed in our downloadable white paper: "Work in the Automation Age: Sustainable Careers Today and Into the Future."
More Robots, More Jobs
Automation technologies allow companies to become more productive and create higher quality products in a safer environment for their employees. This allows them to be more competitive in the global marketplace and grow their businesses. With that success comes more jobs.
Statistics make this clear. From 2010 to 2016, nearly 137,000 robots were shipped to US customers—the most in any seven-year period in the US robotics industry. In that same time period, manufacturing employment increased by nearly 900,000 jobs and the US unemployment rate decreased from almost 10% in 2010 to under 5% in 2016.
The skills gap and its impact
Skilled workers are key to companies' success. Employers rank the availability of highly skilled workers who facilitate a shift toward innovation and advanced manufacturing as the most critical driver of global competitiveness. But studies show an increasing skills gap with as many as two million jobs going unfilled in the manufacturing industry alone in the next decade. Fully 80% of manufacturers report a shortage of qualified applicants for skilled production positions, and the shortage could cost US manufacturers 11% of their annual earnings.
Changing Job Titles Reflect Changing Tasks
In the automation age, as in the computer age before it, job titles shift to reflect the impact of technology. A recent study concluded that occupations that have 10% more new job titles grow 5% faster. Just as we saw the rise of entire industries around previously unheard-of job titles in cloud services, mobile apps, social media, and more, we're seeing similar shifts in the automation age. As lower-level tasks are automated with advanced technologies such as robots, new job titles and industries arise across nearly every economic sector.
Supply and demand and wages
In the manufacturing industry, which is the largest user of automation today, the skills gap is driving up what are already strong wages and benefits, well over the US average. In 2015, manufacturing workers earned $81,289 including pay and benefits compared to $63,830 for the average worker in all nonfarm industries. And 92% of manufacturing workers were eligible for health insurance benefits. Despite that, manufacturing executives reported an average of 94 days to recruit engineering and research employees and 70 days to recruit skilled production workers.
Bridging the Skills Gap with Innovative Training Approaches
Automation age jobs range from well-paying, entry-level and blue-collar positions through engineers and scientists. Stable automation-age manufacturing jobs can start at $20 per hour with just a high school diploma, a few months of automation training, and professional certification. Employers, vocational schools, and universities are offering innovative training approaches that give workers alternatives to the traditional (and expensive) high-school-to-college-to-job route. And employers are revitalizing apprenticeships, recognizing the significant advantage those programs offer.