Application Stories: Highlighting Automation Benefits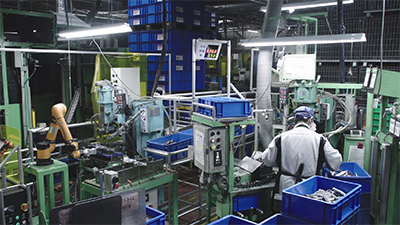 Part of the appeal of collaborative robots for certain applications is that following a risk assessment they can be deployed without the need for fencing and can function in close proximity to human workers, as shown here in a recent deployment at Japanese manufacturer Yokoyama Kogyo. Credit: OnRobot
Factories and warehouses all over the globe and in every conceivable industry deploy technologies developed by A3 members, with the aim of driving productivity and throughput, staying competitive, and addressing sectoral challenges. Every year, these technologies drive and support countless real world applications and this year is no exception. So, let's take a look at a small sample of recent deployments, alongside the drivers for automation adoption, and the outcomes for end users.
Cobot & Gripper Deliver Cost Savings, Improved Quality
The global manufacturing sector is facing serious challenges including a shortage of available labor and supply chain and inflationary pressures, all of which drive cost-cutting measures and make automation an urgent need for companies of all sizes, says Kristian Hulgard, General Manager Americas at OnRobot.
"OnRobot's grippers for collaborative robots and lightweight industrial robot arms are designed to be deployable with a minimum of fuss, which allows companies to address their automation needs quickly and easily and speeds time to ROI," says Hulgard, citing the case of Yokoyama Kogyo, a Toyota City, Japan-based manufacturer of parts for both the auto and construction industries, which was facing a lack of available labor for machine tending applications.
Previously, the firm had tasked workers with the unergonomic task of loading and unloading of parts into metal stamping machinery but wanted to automate the process to improve productivity and enhance ergonomics for existing staff. Yokoyama deployed a collaborative robot from AUBO and an RG2 gripper from OnRobot to take care of the lifting, which resulted in a 35% cost reduction compared to human labor, improved quality output and enabled the company to reassign workers to more ergonomic, higher-value roles.
Boosting Daily Output by 300%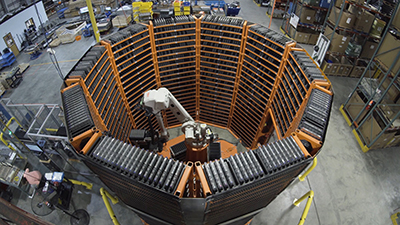 A linear slide on the robot arm ensures it can reach every position on the shelves, and the end-of-arm-tooling incorporates a gripper from SCHUNK Inc. and additional sensors to ensure handling is gentle and without collisions. Credit: ABB
Meanwhile, automotive battery-pack remanufacturer Dorman Products Inc. was facing serious challenges around manual reassembly of battery-packs for Toyota Prius hybrid drive vehicles in its Sanford, NC, facility. Performed manually, operators had to identify the 28 different modules which, only in the perfect combination, creates the optimal replacement battery –a process that could involve up to 100 attempted matches and lots of trial and error.
Working closely with an integrator, Dorman Products eventually deployed a solution created in ABB's RobotStudio simulation software, involving 10 stacks of shelving housing up to 5,000 modules arranged in a 'decagon' around a central ABB IRB 4600 six-axis industrial robot. Capable of identifying likely good matches across each 28-module battery pack and able to store/retrieve one module every eight seconds, the system has helped cut battery build time by 66 percent, increasing the plant's daily output of finished battery packs by 300 percent.
"The circular robotic storage tower has dramatically improved our remanufactured hybrid battery pack business," says Michael Menta, Dorman's vice president of engineering. "We went from an exceedingly drawn-out manual process, endlessly pulling modules from bins to find precise matches, to the automated process, which is much easier on our staff."
AMRs Drive Productivity, Enhance Worker Safety
Leading machine manufacturer Lenze Drive Systems (LDS) wanted to improve productivity and enhance ergonomics around product transport processes in its Ruitz, France-based manufacturing facility. Performed manually, the task involved a lot of travel and repeated load carrying of parcels, amounting to around 100 packages per operator per day –making it a good candidate for automation with autonomous mobile robots (AMRs).
Lenze integrated a MiR200 from Mobile Industrial Robots (MiR) with its existing machinery, enabling fully autonomous transport of finished products between its packing and sorting stations. The robot travels close to 3.1 miles (5km) autonomously every day, improved productivity by 10-15%, and eliminated a lot of unnecessary travel for operators.
The AMR industry has "skyrocketed" in recent years as manufacturers recognize the value mobile robots bring to their organizations, especially those struggling to find human workers to fill dull, dirty and dangerous jobs, says Ed Mullen, VP Sales Americas at MiR: "Lenze is an ideal example of how these mobile robots can improve productivity, safety and even ergonomics across their workforce by letting machines tackle these tasks while human workers focus on more valuable work."
"As customers across myriad industries have tested the AMRs for various material transportation needs, they've started to ask for solutions that can handle even greater payloads across even more challenging industrial environments," adds Mullen. "We continue to listen to these demands, designing higher payload AMRs that are even more reliable, flexible and scalable. As a result, they're going from one or two AMRs to full fleets of robots that can handle these heavier weights in almost any setting."
Inspection At The Speed of Production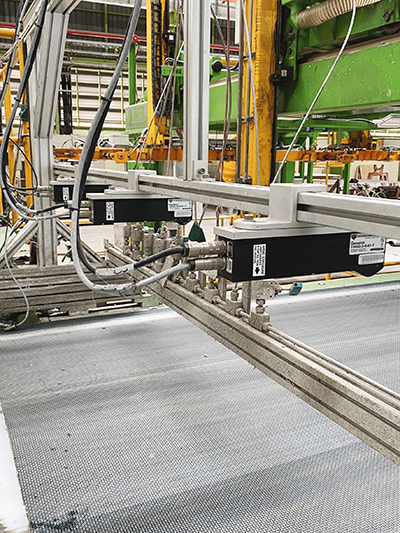 A linear slide on the robot arm ensures it can reach every position on the shelves, and the end-of-arm-tooling incorporates a gripper from SCHUNK Inc. and additional sensors to ensure handling is gentle and without collisions. Credit: ABB
One of Thailand's leading cement manufacturers produces fibre cement sheets that travel at line speeds up to 130 m (426.5 in) per minute with seven production lines running simultaneously. Two operators working in shifts were assigned to visual inspection tasks, which proved to be both expensive and inefficient.
The manufacturer implemented 6 networked Gocator 3D laser line profile sensors from LMI Technologies into each of their 7 production lines, with each system comprising two Gocator sensors on top, and four sensors on the bottom. The deployment improved quality through consistent and cost-effective inspection results and enabled the company to reduce the number of operators required by two per shift.
"As a result of the increased demand for cost-effective, high-precision machine vision technologies for factory automation, LMI is seeing its 3D sensor solutions expand into exciting new industries such as fibre cement sheet inspection," says LMI via email: "Leveraging our proven industry-leading web-based 3D inspection platform, companies can easily create multi-sensor networks to scan the entire cement sheet top and bottom, generate high-precision 3D heightmap data, and easily apply measurements with on-sensor tools––all with no PCs or controllers required."