Advances in Grippers and Collaborative Robots: Highlights from A3's executive roundtable
Tweet This:
On May 12, as part of a series of roundtables hosted by the Association for Advancing Automation (A3), four industry leaders discussed how these technologies can be applied in your business and explored potential use-cases.
If you missed the webinar, you can sign up to watch the replay here: https://www.robotics.org/webinar-detail.cfm/webinars/how-advances-in-grippers-and-collaborative-robots-are-solving-automation-challenges/id/109
What's easy for humans can be so hard for a robot. But innovations in gripping, software, and collaborative robots are leading to rapidly improving capabilities -- while increasing the number of possible applications. It's now simpler, quicker, and cheaper to automate sophisticated solutions in manufacturing, assembly, logistics, warehousing, packaging, and surface finishing.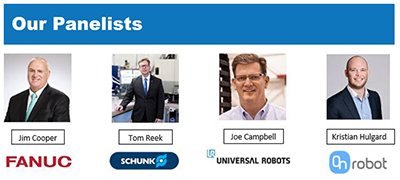 On May 12, as part of a series of roundtables hosted by the Association for Advancing Automation (A3), four industry leaders discussed how these technologies can be applied in your business and explored potential use-cases.
The participants:
Joe Campbell, Senior Manager, Strategic Marketing & Application Development, Universal Robots
Jim Cooper, Executive Director - Global Accounts, FANUC
Kristian Hulgard, General Manager, Americas, OnRobot
Tom Reek, Vice President, Automation, SCHUNK
The panel was moderated by Robert Huschka, the director of education strategies at A3.
More than 400 attendees watched the discussion live, which was sponsored by FANUC, OnRobot, Schunk, and Universal Robots. If you missed the webinar, you can sign up here to watch the replay.
Here's an edited summary of some of the key topics that were covered:
Looking towards the end of the COVID-19 crisis, economists are forecasting larger use of robotics and automation, which potentially means a lot of new customers. What would you tell business leaders about getting started with grippers and collaborative robots?
Kristian Hulgard: There's plenty of information, whether it's on-demand webinar, from the different manufacturers, or if it's specialized video content. There's so much out there and hats off to all the manufacturers, all the distributors and partners out there who are creating this content, so you as a manufacturing company can go in and get the information that you need to make the right decisions. First for getting out of the crisis, and then ramping up to automation.
Joe Campbell: What we're really seeing a big surge in right now are companies that have never really automated in the past, small-medium enterprises, which make up 90% of the manufacturing capacity in the US. And we generally counsel them to find the dirty and dangerous jobs. Don't try to go and solve all your problems, all in one step. Look for the $75,000, $100,000 problem and solve it, you know, kind of build some muscle memory in automation, especially for people who are just new to it.
Jim Cooper: I certainly recommend people use this downtime for planning. Many are predicting that when we come out of it, we'll come out stronger. There's quite a bit of discussion on re-shoring, so this is the time to be looking at that.
Collaborative robots and advances in technology are creating a new class of customer – one that might not have considered automation. How do you counsel those companies?
Tom Reek: We all want to be successful in the USA on our manufacturing course, so it's really important the users are successful, and if we can help them on the onset of their projects, we're advising them to stay, take a look at what they want to achieve with automation and sets clear goals where they can measure. Then second, we'd ask them to prioritize. Then we can get something working and build on that success. Industrial manufacturing and advances in gripping are opening up new areas of opportunity, like in food and agriculture, plastics, and medical.
Kristian Hulgard: We've seen growth with smaller companies that might not have been used to automating, pulling the trigger faster on projects. Guiding your customer in all the steps and getting them through the whole process instead of just having the component and saying "that can solve the problem" I think is essential. The key to getting out of this crisis really strong is everyone working together to provide that to the customers.
How do you ensure ease of use implementation for collaborative robot applications?
Joe Campbell: There's a real interest in doing it yourself applications with collaborative robots that can be very successful if you have the resource and if you have the right energy plugged in, you're trying to get your first applications up and running quickly. You're trying to get a quick return. You want to build a little confidence in your financial side of the house. We quite often recommend the lead integrator. These are typically small footprint companies that turn very quickly. And we're seeing them, deliver projects from purchase order to start on three and a half to four weeks is very common. And that kind of builds confidence in the whole program and lets companies, move beyond the first robot.
How do you advise customers on picking a partner for integration?
Jim Cooper: There's a lot to be said for the value a systems integrator can provide, they have the experience of past applications. Probably most important in all of that is understanding the safety aspect, and the risk assessment, and making sure that it's a safe application, and RIA offers safety training and safety tools, but you know it ultimately comes down to what's the best use for the end customers' time to users' time and, and also we try to help guide people through them.
How should a customer go about selecting the right gripper?
Tom Reek: The best thing is, think about the worst-case going into the application or the project, and usually have some processes happening to that work is being machined, is being assembled is being tested, and something is going on with that part and the robot is somehow navigating that part through in and out of that process. Well, that's usually pretty straightforward but many times, the parts don't come in that way, they may come in in a chaotic fashion, they may have been grouped in with a lot of different parts or they may be all nested into a bin where they're all neatly separated, but they're still very tight together, and they only look different from one end. So, we don't only consider the part but we have to consider how it's fed and the orientation, and how it feeds into the process.
Each company had the opportunity to present a demonstration of their collaborative robot and gripper applications. Sign up to watch the recording to see each demonstration.

Kristian Hulgard: Tom pretty much nailed it. I want to add that I think software is extremely important. You give the user confidence and showing them that these different products here, they actually work together and can work together on certified work. I want to make sure the customer controls it, and make sure the software is compatible and making sure the products have ingredients in the application that can work together.
How can you quickly generate an ROI, and how can you talk customers through ROI.
Kristian Hulgard: Don't start with a huge crazy formation, start on the simple task you want to automate. When you look at ROI from a tool perspective, it may not be from the initial investment.
Tom Reek: I 100% agree with Kristian's answer, that you have to put some time in upfront. I think it's important to make sure that you know when you do initial design, as you feel comfortable that you're going to have near perfect reliability, because any machine cost you have down the line costs the customer money.
What is quick-change tooling?
Tom Reek: We have devices that will allow you to very accurately within a few microns, be able to rigidly reattach a robot to another platform. So now it can be able to get that repeatable position for programs get off and running. Other quick changes in the tool itself so at the end of the arm, they're having some manual quick release or automatic release that would allow you to go to different types of tooling grippers or other end effectors that that will allow you to exchange it for different applications.
What gets you excited about grippers now, or from what advances are around the corner?
Jim Cooper: It's opening up a tremendous number of new applications, some of those you can see here in this webinar. We're really excited about how we're making investments in the fiber department, because again since expanding robotics into whole new set of customers that are able to look at things now that may be weren't at the right ROI in the past.
Joe Campbell: I am excited every day by working with SMEs (small medium enterprises). In spite of the COVID-19 crisis we're still laboring under, there's still an underlying labor challenge in manufacturing, and eventually we're going to get back to normal and things will look a little bit different, but we're going to go back to that normal with a shortage of manufacturing labor in this country. In many cases we find the ROI is not driven by labor replacement or labor reduction, it's driven by machine utilization, because the companies can't hire enough manufacturing workers to keep their machines operational. And if a robot can help do that, that's a huge payback.
Tom Reek: What really excites me is how the robot companies are coming together and offering their customers ways of making it easy to have off-the-shelf solutions with our partners. If you can think of a gripper application, somebody out there has already come up with it, kind of like the App Store on your phone. All these solutions are making it easier for customers to buy and successfully install robots fast.
Kristian Hulgard: I'm excited that manufacturers are really starting to work together on solutions, and not on single products or portfolios or components. Together we can really help the companies, whether it's SMEs or large companies, deploy applications faster and more effectively.