8 Reasons You Shouldn't Miss the International Robot Safety Conference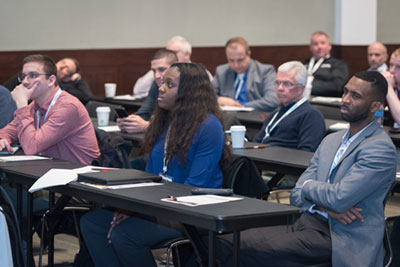 Employee safety is always critical, but now that more robots than ever before are being purchased and deployed in growing industries, ensuring the safety of anyone working near these systems is even more important.
A3 president Jeff Burnstein said with a new workforce and more robots across myriad industries , it's more crucial than ever for integrators, manufacturers, and end-users to attend to make sure their knowledge of robot safety and risk assessment is current.
Whether you're just starting with robotics or well-versed on robot safety practices but feel there's more to learn, here are eight key reasons you shouldn't miss IRSC:
Understand what's worked, and not worked, from real-world case studies. Hear examples from manufacturers and others who have deployed and managed robots and other forms of automation safely within their facilities. You'll hear everything from "the top 10 ways working with a collaborative robot application is like attending a dinner party" from OMRON Automation to the how nine robot workcells helped ensure automotive airbag high pressure gas cylinder production from Rockwell Automation. Definitely don't want to miss those stories!
Learn how to create a culture of safety within your organization. Are you employees comfortable working alongside robots? Have they been trained on the do's and don'ts? Are all, including management, onboard with learning what they need to do to ensure everyone is safe? Are you following all the standards already? If you don't know the answers to these questions already, you'll find out how to ask them and how to ensure you're filling the right holes in your company's knowledge base to ensure you are all safe at all times.
Experience the newest and most innovative technologies that will help ensure robot safety from vendors in the table-top exhibit hall. Meet with leading robotics safety companies who can help you safely deploy automation in your operations. Now's your chance to ask all the questions you might not have thought to ask during the conference session Q&As!
Learn all you didn't know you didn't know about robot safety. A3's Carole Franklin and Maren Roush will kick off the conference with a session on "what you need to know about robotics & safety – and why," followed by a panel discussion on "getting started with robot safety" from industry leaders such as Otto Görnemann of SICK; Roberta Nelson Shea of Universal Robots, and Mark Lewandowski of Procter & Gamble. Even the experienced might pick up a tip or two in these sessions!
Get an introduction to safety standards—or the latest developments. Industrial robots, including conventional, collaborative and autonomous mobile robot (AMR) systems, all have different standards, from the main safety standard for industrial robots, ISO 10218:2011 (Part 1 and Part 2), to the RIA TR R15.606-2016 in the US for collaborative robots to the various parts of the ANSI/RIA R15.08-1-2020 standards for mobile robots. Find out what you need to know to ensure you organization is following the regulations of each.
Hear directly from more top industry experts about every stage of robot safety. In addition to the panel discussion with Otto, Roberta and Mark, technology and business leaders from companies like Amazon, FANUC, Honda, Rockwell, Veo, Crown Equipment, Applied Manufacturing Technologies and others will share real-life insights, technology developments and best practices in robot safety.
Discover how to conduct a robot risk assessment before starting your next project—or how to incorporate findings into existing projects. Learn what companies and system integrators need to consider when determining the safety of your project, from the robot system itself, to the equipment that works with it (i.e. end effectors, mobile robot equipment/top modules), or the size of payloads the robot applications will handle.
Understand the role OSHA plays in robot safety. Representatives from Occupational Safety and Health Administration (OSHA) will be there to give their important perspective on industrial robot safety.
Now that you know why you need to attend IRSC, don't forget to register! Registration includes access to educational conference sessions and the exhibit hall expo.