10 Reasons You Need to Attend the National Robot Safety Conference

RIA will be hosting the National Robot Safety Conference (NRSC), October 10-12th, 2017, in Pittsburgh, PA. This annual event draws attendees from around the globe seeking to deepen their understanding of robotic safety and profit from the latest robot safety insights.
Robot safety is paramount in automation planning, profitability and reliability. With robot sales at an all-time high, and the efficiency of automation being a key competitive differentiator, an in-depth knowledge of robot safety can help grow your business.
Here are the top 10 reasons you need to attend NRSC:
1. Learn the latest robot safety standards updates from the people who wrote them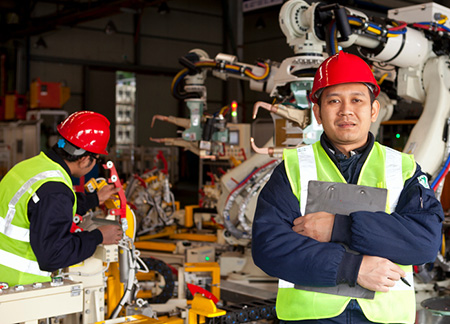 Many of the speakers at NRSC played a major role in drafting robot safety standards. At NRSC, you can get a detailed understanding of the technical specifications involved in the latest robot safety standards updates, directly from the people who wrote the standards.
2. Attend a special conference track dedicated to environmental health and safety professionals
A new addition to this year's NRSC, this special conference track addresses the common problems and solutions for environmental health and safety professionals.
3. Discover emerging robotic technology
A gathering place of likeminded industry professionals, many attendees experience the same safety problems and are in search of the same solution. Suppliers and integrators alike will be showing off their latest robotic technology to help solve common industry safety problems.
4. Attend a special session on robotic cybersecurity and safety
Robots are becoming increasingly connected, and like other IoT-enabled devices, they have cybersecurity vulnerabilities. These weaknesses can prove detrimental to safety and product integrity. NRSC has an exclusive session on cybersecurity so you can learn how to protect your robotic systems.
5. Take advantage of the rare opportunity to learn about safety for collaborative, industrial and mobile robots in one place
Collaborative robots are relatively new in the industry, and mobile robots are even newer. As they grow in popularity and become more widely adopted, they bring up many new safety concerns. NRSC gives you the opportunity to watch an all new session on robot safety for collaborative, industrial and mobile robots.
6. Attend an exclusive panel hosted by major robot users
Some of the world's biggest robot users, such as Corning, Procter & Gamble, and Honda Engineering North America, will discuss traditional robot systems. This is an exclusive opportunity to glean insight from companies with heavily automated production operations.
7. Watch case study presentations and get hands-on safety knowledge
Robot integrators will be presenting case studies of some of their toughest automation challenges. Watch real-life examples of automation integration projects and get practical safety knowledge.
8. Listen to a distinguished line of speakers from all industry perspectives
NRSC attendees, speakers and panels are made of suppliers, integrators, users, consultants and other industry segments, across a number of different market sectors. Attend NRSC to hear from all different industry perspectives and broaden your understanding of robotics and robot safety.
9. Fine tune your risk assessments with the latest safety tips
Accurately assessing risks is a fundamental aspect of robot safety. Surround yourself with the industry's foremost experts and deepen your understanding of robot safety. You'll leave NRSC with a better understanding of all the risks your company faces.
10. Network with suppliers, integrators, users and other industry experts
NRSC attracts attendees from around the world, from companies of all sizes in many different industries. Network with industry professionals to advance your career and find your next big business opportunity.
---
With new content and more user panels, NRSC offers more business opportunities and more robot safety knowledge than ever before. For professionals in the robotics industry, this is a must-attend event.
No matter your role in the broader robotics industry, safety is at the core of your business. Attending NRSC helps you profit from the latest robot safety insights and grow your business.