A3 Certified Vision Professional - Basic Program
New and refreshed courses for the CVP-Basic program are now available. The Certified Vision Professional - Basic Program consists of six courses taught by industry leaders. The courses are free to Gold and Platinum A3 members or available via subscription. Virtual testing for certification is also available.
The Courses:
The Fundamentals of Machine Vision
Beginning Optics for Machine Vision
Beginning Lighting for Machine Vision
The Fundamentals of Camera and Image Sensor Technology
Image Processing Fundamentals
Vision System Design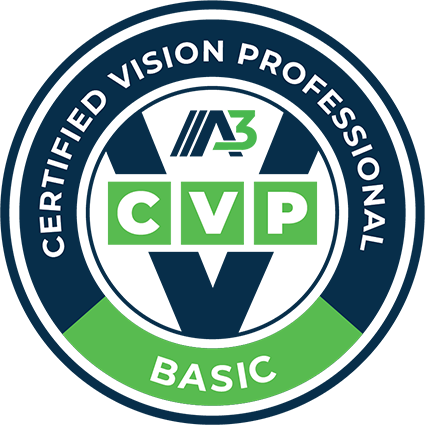 Virtual Exam
View available dates for a live, proctored exam and test your vision training knowledge
Meet Certified Vision Professionals
View a list of Certified Vision Professionals - Basic.
CVP-Basic Videos
Member Access
A3 Gold & Platinum members get free access to CVP classes in their membership.
Purchase CVP-Basic
Course Slides
Download PDF versions of the course PowerPoint slides.
Purchase CVP-Basic Videos
View the different options to purchase CVP-Basic training